Show Schedule
West Coast Live broadcasts Saturdays from 10am to noon Pacific Time, unless otherwise stated. Guests attending the show are asked to arrive 30 minutes early, at 9:30am.
MAY 30, 2015
Encore Presentation - Show 1116
Step into the WCL time machine and travel with us back to 2000. Sedge welcomes: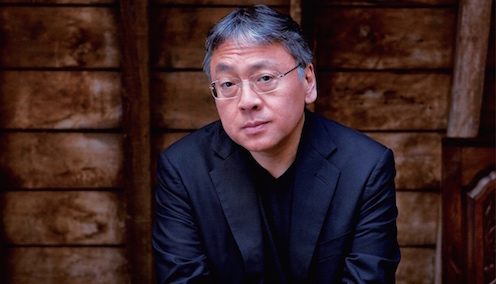 KAZUO ISHIGURO, author of When We Were Orphans and The Remains Of The Day.
MICHAEL CHABON, Pulitzer Prize winning author of The Amazing Adventures of Kavalier & Clay and Wonder Boys.
RITA MORENO, the only person who has won an Oscar, an Emmy, a Tony and a Grammy.
THE LIMELIGHTERS, classic and comedic folk quartet who believe "great songs deserve to be passed along"
WILL BERNARD AND MOTHERBUG, Jazz and old-school R&B, with elements of lounge, surf, and more.
MIKE GREENSILL piano man. See you next week at the Ferry Building!
JUNE 6, 2015
Live at the SF Ferry Building - Show 1117
Live from the second floor of the San Francisco Ferry Building! Sedge welcomes:
ROBERT ROPER brings us the riveting adventure Nabakov in America: On the Road to Lolita, to be published on the 75th anniversary of the iconic writer's arrival in America.
JANICE NIMURA, with Daughters of the Samurai, the true story of five Japanese girls who were sent to the US in 1871 as one of the first experiments in multicultural education.
REAL VOCAL STRING QUARTET, string band, vocal quartet, jaw-dropping improvising world-music collective….pick a box and they'll think outside it, with style!
QUILES AND CLOUD, the modern troubadours soothe us with their rich tapestry of song and storytelling.
JOHN CARLON of Sierra Cascade Blueberry Farm, an organic farm near Chico doing fascinating stuff involving bees, gophers, and other wildlife.
MIKE GREENSILL on house piano, and more!
JUNE 13, 2015
Live from Studio 55 Marin - Show 1118
Live from Studio 55 Marin at 1455 East Francisco Blvd. in San Rafael! Sedge welcomes:
CRAIG CHAQUICO, guitarist, songwriter, founding member of Jefferson Starship and friends take us out of this world!
LAURA DAVE, bestselling author of Eight Hundred Grapes, a funny and heartbreaking novel about love, family and wine, set in Sonoma County.
KATIE GILMARTIN with her illustrated murder mystery Blackmail, My Love, deeply steeped in San Francisco's Queer History.
SOUND OF SIRENS, like mythical sea maidens of old, they'll mesmerize you with scintillating vocal harmonies and intricate instrumental arrangements.
MIKE GREENSILL, jazz and cabaret piano player and author of Playing for Singers.
AND MORE!
Page 1 of 2
«
Start
Prev
1
2
Next
End
»