Become a Patron of West Coast Live!
WCL Flies 25 years, Moves on-line, Leaves Airways at end of 2018



#1301 and #1302 for Dec 15 and 22, Great Holiday moments, #1303 for Dec 29 - Great moments, a bit of auld lang syne for those who've left this vale in 2018, and a jolly send-off into the unknown new year, a year of re-invention and adventure.

First, thank you for listening as you through the years. 25 years as Sedge Thomson's West Coast Live, San Francisco's Radio Show to the World, since Jan 8 1994, and 9 years before that as West Coast Weekend. And before that, Sunday morning live Breakfast Jam. A lotta shows! A lotta great guests! About 35 years. Crikey!

In 2019, you can find WCL interviews on-line. Since July 2016, when our live 2-hour show in San Francisco closed, we've created a space for what we call, in Henry David Thoreau's words, for "reading the Eternities." Wisdom and happiness from across the years. The LIVE show, is what kept us going, sustained us, the purpose true.

Meanwhile, I've begun a project involving Schubert and radio and the movies that will take shape in the next few months. Stay signed up for details. It'll have its own website.

Lives takes many turns and it's a remarkable turn to have played the radio field doing a LIVE show in a theatre with the great thinkers and musicians of our times.

So, we will find a second life, on-line, for the magic is still in those recordings. That magic is why we all gathered on those Saturday mornings.

If you had a hand in a graceful touch of our show, we thank you. You made them happen.

Our shows of Dec. 15 and 22 will feature some of the great holiday moments. Our last show, of Dec. 29, will feature some great people who left our vale in 2018.

in 2019, there'll be new voices in place of ours adding to the clamor and hurly- burly of our times. We enjoyed our share!

Thank you! A reminder: Independent of our broadcast time, you can listen all week to the program on any device or computer via the LISTEN button on the front page of our web site.
Best wishes, and many thanks for your support through the years! Safe journey,
Sedge

PS You can text SEDGE to 22828 to sign-up to our occasional newsletter.
Miracles & Latkes Show #1300 08 Dec. 2018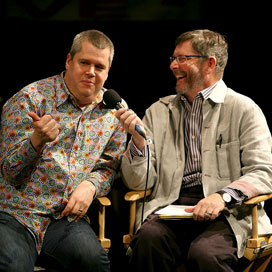 Today, Sedge marks the 1300th broadcast of West Coast Live with a holiday feast of seasonal sounds and chortles for the spirit. Hygge, anyone?
DANIEL HANDLER & LISA BROWN - Author as Lemony Snickett and illustrator of The Latke Who Couldn't Stop Screaming: A Christmas Story, the holiday and Hannukah classique in the tradition of A Christmas Carol and cooking tips by Lizzie Borden
The OAKLAND INTERFAITH GOSPEL CHOIR, with a Joy To The World that is utterly joyful.
KARL & CARL, the globe-trotting comedians stop by with their latest (most ridiculous) edition of Tips on Travel for the holiday season. We free them from a stalled escalator
The HOT CLUB OF SAN FRANCISCO, with Django Bells and other too cool yule of Le Jazz Hot for this winter week
And we open a wee gift from UKEBOX
MIKE GREENSILL, piano sleigh